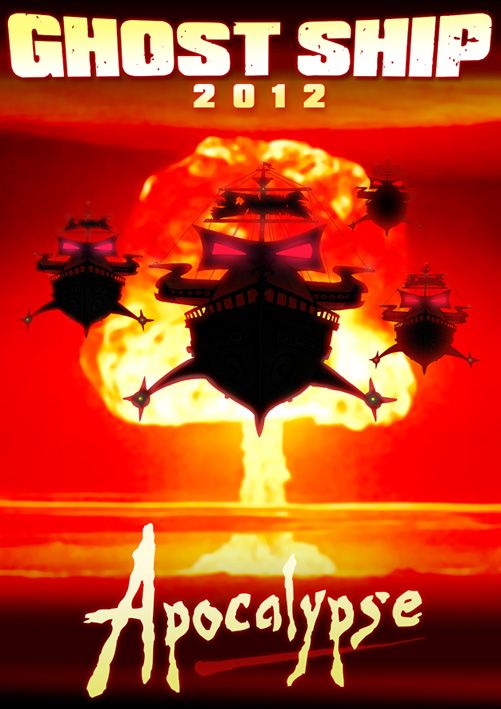 The Last of the presale tickets are going fast ! Buy Tickets Here!
Ghost Ship is back, and the end is NEAR!!!

2012 is the year of the Apocalypse!!

We are proud to announce that on Saturday, October 27th the Bay Area's most eagerly anticipated Halloween celebration is back for its fifth year. Featuring a cavernous hangar packed with multiple sound areas, more than 40 of the Bay Area's finest DJs and performers, mind boggling art cars including the Unimog, a Silent Disco, and an enormous array of large-scale artwork made available for your viewing pleasure on this one night only!
Featuring the sound track to your APOCALYPSE:

Space Cowboy DJs: 8ball, Mancub, Brad Robinson, Kapt'n Kirk, Tamo, rrrus, Sol, shOOey, Shissla, Zach Moore, Deckard, Aaron Jae, bassBen, J9, Erik.Hz

Janky Barge & Slayers Club DJs: Spank Bank, Tim Dietz, MoPo Honey Knuckles, Ground Control, Manitous, Lokae, Matt Haze, Lucas, U9lift, Sweat

SEISMIC: Trav!

Strategik: Influence & Anthony James

Nightlife: Aaron Pope

DISTRIKT: Darren Grayson, Matt Kramer, Layne Loomis, Clark Hamon with Homer

Pink Mammoth: JDubya, Gravity, Markie B, Moe Moe

And more DJs from Hookahdome, Afrolicious, Erase Records, Silent Frisco, Lovetech

Rich DDT, Jef Stott, Ma Yeah, Moldover, Fleck, Damon MacGregor and MORE!!

Designs are being finished for this year's incredible Ghost Ship and our Zombie armies are being drafted from the undead all over the city and the desert.

With an array of talent hailing from the Bay's finest crews, and an audience that comes dressed literally to kill, it's easy to see why Ghost Ship has sold out in advance every year.

Art pieces and large scale installations from Micheal Christian, Kate Raudenbush, The Unbreakables, Cubatron PC4000, Cosmic Carousel, Flux Foundation, Tres Fontaine & Divine FeMinism, The Cardboard Institute of Technology, Joel Dean Stockdill, Joshua Short, Eli Spear, Michael Munane, Future Fossils and more.

ART CARS to explore: The Unimog, Dodo Bus, Janky Barge, Ganesh Mobile, Disco Shuttle, Sil-vi, Dusty Rhino, Cupcake Saucers, and Martha Loves You

This event is 21+ with valid ID.

For more information, visit the Ghost Ship website or you can follow the event on Facebook by clicking here!

Thanks to Jem Panufnik for the Ghost Ship Artwork.